Hello,
So I made great use of the NYX sale that has been going on. I ordered some products on cherryculture.com from the NYX sale, and used the code given. This was my first time ordering from www.cherryculture.com and all I can say is they have the slowest shipping ever, I know I did the regular shipping and my shipping was free because I order over $40 worth of products but it took too long to get to me. Maybe then again I was being impatient because I am that type of person but I ordered stuff on Ebay after that & I got them asap.
Now I ordered a few NYX single eyeshadows, trios, lipglosses, glitter liner & concealer.
Here goes: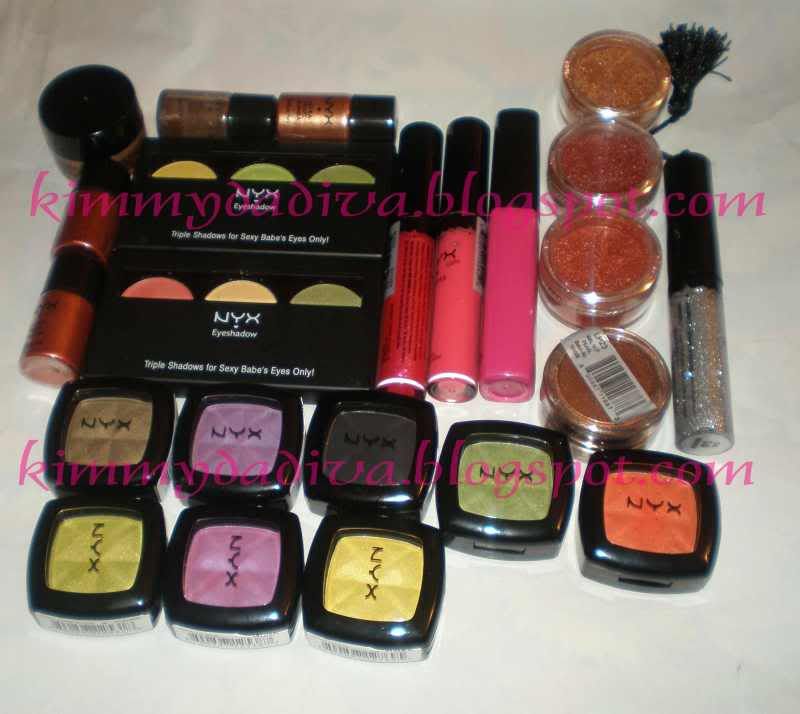 MY HAUL GOODIES :)
NYX Ultra Pearl Mania
L-R:
Penny, Rust, Oro, Walnut
Ok so I depotted the NYX pearl mania pigments into these 10gram jars I bought on Ebay, the seller is fantastic because I order them Friday evening and got them Monday. They ship very fast and the five 10gram jars with sifters were?? $3.95 + free shipping
Here is the link for the ebay seller:
Beauty Makeup Supplies
Depotting them makes it easier to get the products out from the tiny jars and of course not let you waste product.
The other stuffs I got were:
NYX single eyeshadows:
Black, Africa, Lime Juice, Kiwi, Purple, Herb, Luxor, Chick
NYX trios:
Tropical/Yellow/Lime Green, Serengeti
**Swatches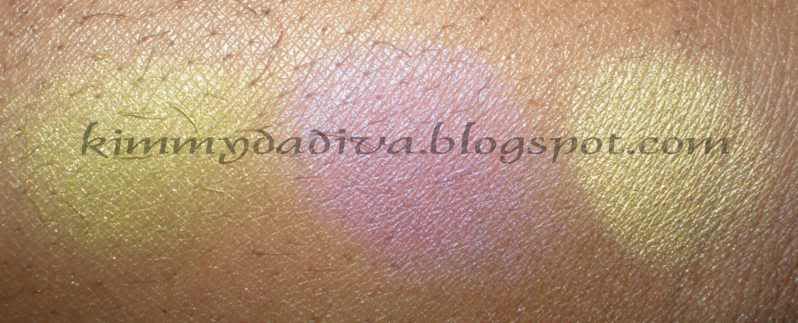 Single e/s: Lime Juice, Luxor, Chick
Singles e/s: Herb, Purple, Black, Kiwi, Africa
I also got a NYX concealer in
Tan
.
**NYX Trios: top: Serengeti
bottom: Tropical/Yellow/Lime Green
NYX Round lipglosses:
Strawberry, Soap Opera
& NYX Mega shine lipgloss:
African Queen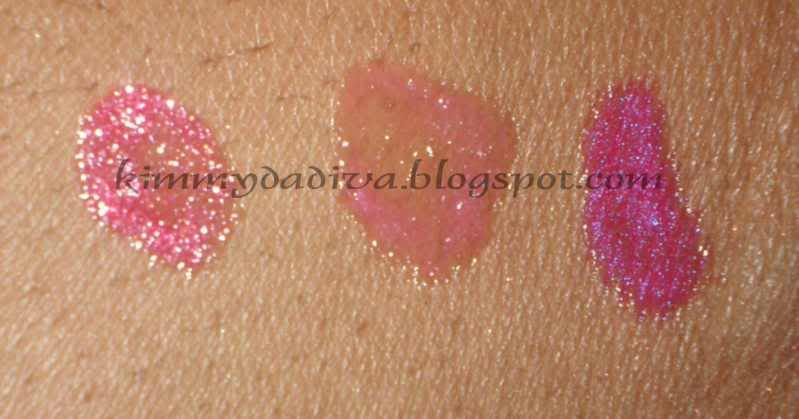 l-r: Soap Opera, Strawberry, African Queen
Note:
Soap Opera is like a cheaper version of MAC dazzleglass, its has chunks of glitter in it, its ridiculous. Even when I wiped off the lipgloss from my lips, glitters were all over my face.
NYX Glitter liner in Silver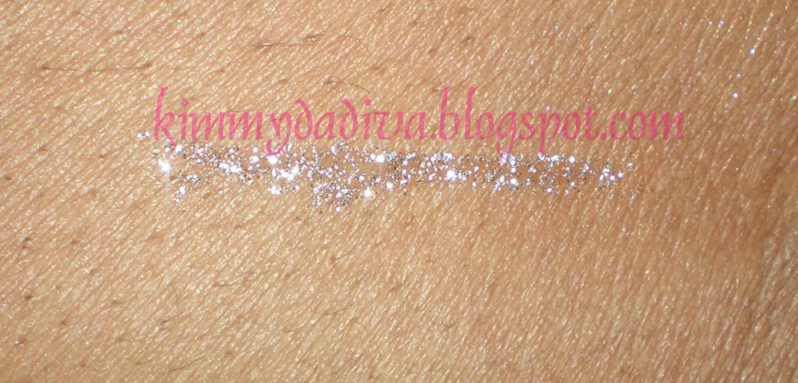 I really liked the products I purchased but lets see, I actually say tons of dupes from my 120 palette, will I purchase more eyeshadows? maybe because I love collecting makeup.

I love the megashine lipgloss, smells great and the staying power from my first day was good. The lipgloss do have a slight wierd scent at first but after its gone. As for the glitter lipgloss well its just my dupe for MAC dazzleglass (not sure which one).

I will definitely give you updates as the week goes to let you know the intensity and pigmnetation of the eyeshadows as well as me using the lipglosses and glitter liner and concealer.

Well my fellow bloggers, that's my haul and I have few more stuffies on the way. Hopefully soon. I love mails with goodies...lol


Smooches!