Hello lovelies,
It's been awhile since I have blogged, I apologize for the delay. It's near the Christmas holidays and I just want to Thank you all for the support and love on my blog. It has been positive on my blog so far and I love you all for keeping it that way. There has been several things going on, first off did you get anything from the Rihanna for MAC Holiday Collection?
If so what did you beauties get, I only got the lipsticks: Pleasure Bomb and BadGal Riri. I love BadGalRiri, wish I did get two of it, nevertheless, you will see me do a look with both lipsticks soon. Also did anyone get the Urban Decay Vice 2 or Naked 3 palette? I wanted to get the Vice 2 but withdrew myself from getting it even after getting a $15 gift card from Sephora.
Today I will grace you all with a holiday makeup look, this look is very sexy night time look for a Christmas night party. Check out this simple look and if replicated definitely tag me on Instagram @Kimmydadiva or Facebook: DaDivaBeauty
Products Used
FACE
Black Opal creme stick: Beautiful Bronze
Ruby Kisses No More blemish f/d: Cognac
Milani face powder: Chestnut
Coastal Scents concealer: #7 (
under eye concealer
)
NYC Translucent powder (
set under eye concealer
)
NYC e/s duet: Go To Boardway; dark color (
contour
), light color (
highlight
)
Milani baked blush: Rose D'Oro
EYES
Ruby Kisses primer
Maybelline 24hr Color Tattoo: Seashore Frost (
lid
)
Urban Decay e/s: Honey (
lid
)
L'Oreal HIP duo: Charged; darker color (
outer lid/crease & bottom lashline
)
NYX e/s: Black (
outer lid & outer bottom lash line
)
Coastal Scents hotpotS: Coconut Husk & Oktoberfest (
crease
)
Revlon PhotoReady concealer: Deep (
highlight
)
NYC liquid liner: Black
Kleancolor glitter liner: Gold (
tearduct
)
La Charme lashes: #43
Rimmel Lash Accelerator mascara
LIPS
Nicka K l/l: Red
MAC l/s: RunAway Red
Rimmel Kiss Off: First Time
LIPS:
Black Radiance liquid lip color: Succulent Plum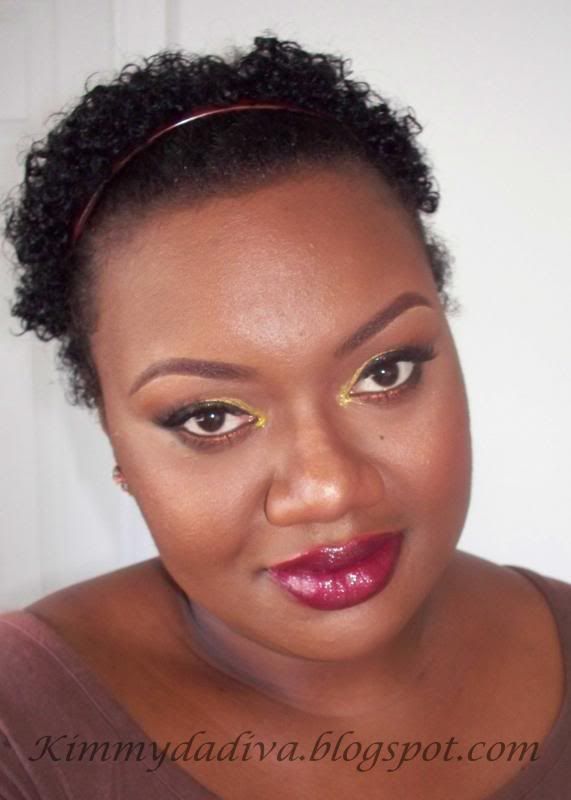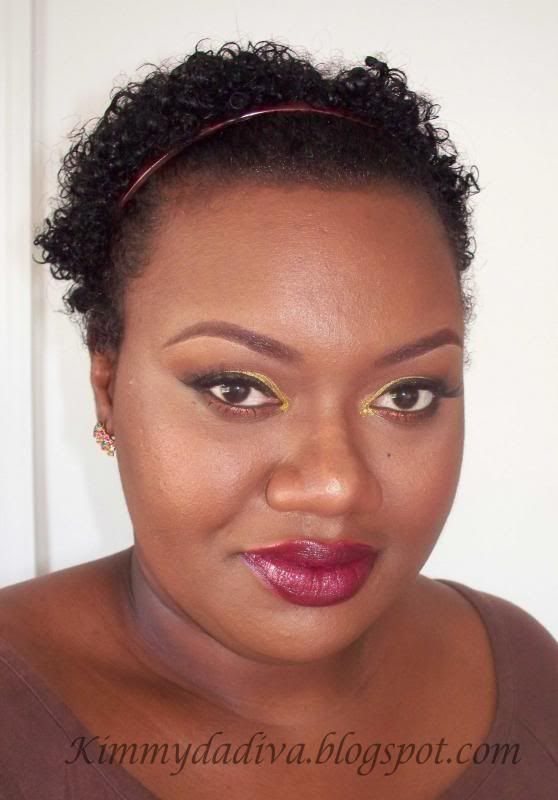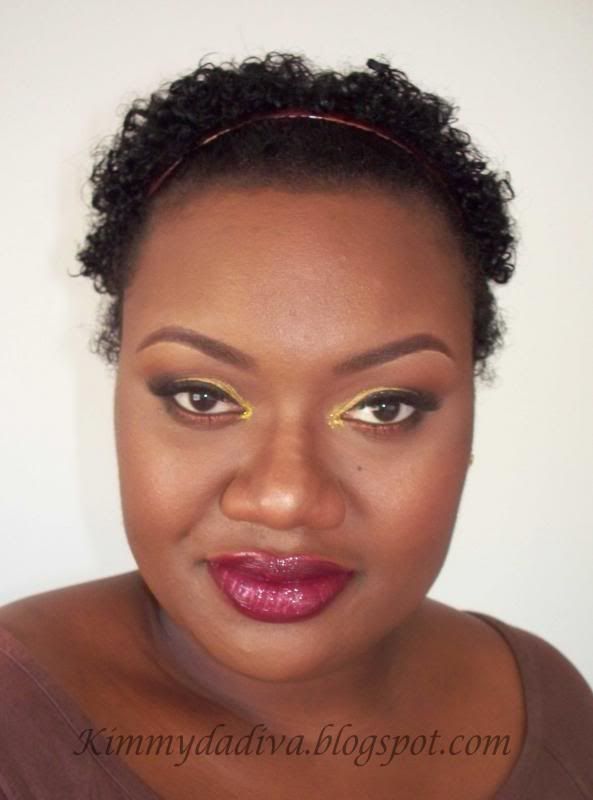 Btw, did you notice anything different in my look........Guess!!!!
I cut my hair, yes I am going on the team natural train, I have cut off the perm /straight section off and rocking my natural air-dryed curls. By Next year my blog will have a section where I share my natural hair journey with you. Stay tuned for products I use as well as length check and more.
Happy Holidays and Best Wishes for the New Year