Hello beauties,
I hope everyone is safe and well this week. My FOTD is my last look from the ELF Beauty Book: Bright Eye Edition. Yes, finally I have completely another palette... even though I have done several looks from this palette if you have it in your collection, the options are diverse in creating multiple looks from the colors within it. Remember to have fun with your makeup!!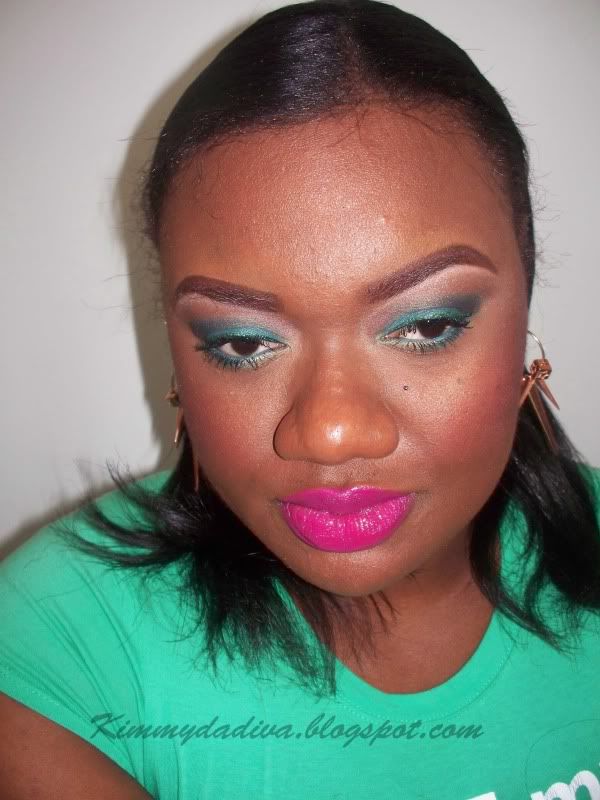 Products Used:
FACE
Smashbox primer
20 concealer palette
Black Opal f/d stick: Beautiful Bronze (
conceal blemishes
)
Revlon PhotoReady f/d: Mocha
N.Y.C. Sun 2 Sun bronzer: Bronze Mist (
all over powder
)
La Femme blush: Fuchsia
ELF blush: Gotta Glow (
highlight
)
EYES
UDPP
L'Oreal HIP cream eyeliner: Teal
ELF Beauty Book: Bright Eye Edition
☞☞☞
All 3rd row colors
: 2nd color in row; teal color (lid), 3rd color in row; forest green (
crease & outer bottom lashline
), 4th color in row; deep shimmer brown (
outer crease
), 1st color in row; light green iridescent color (
tearduct & inner bottom lashline
)
☞☞ 1st col 1st row color mixed with 2nd row 2nd col color (
highlight
)
LA Colors Traditional palette: skintone brown color (
browbone
)
Wet n Wild H²O liquid liner: black
Wet n Wild Fantasy Makers glitter eyeliner: Secrecy (
lid
)
LA Colors eyeliner: Turquoise (
waterline
)
LIP
NYX l/l: Bloom
MAC l/s: Full Fuchsia
Rimmel Kiss Off l/g: Paint the Town
cheesing... this lip combo is the bizniz.com
It's a Wrap with this palette!!
Next palette edition looks will feature the ELF Beauty Book: Smokey Eye palette
Be Fabulous & be smart!!!