Hello lovelies,
It's another week and I hope all is well with you beauties. I have another FOTD where I feature another look from my random
Ebay
26 eyeshadow and blush palette. I have pictures and list of products used below and I hope you all like. Also I wanted to thank each and everyone who commented on my previous FOTD's and who has visited my blog and just stopped by to say hi. I appreciate your love and support and your feedback and kinds words are always taken grateful.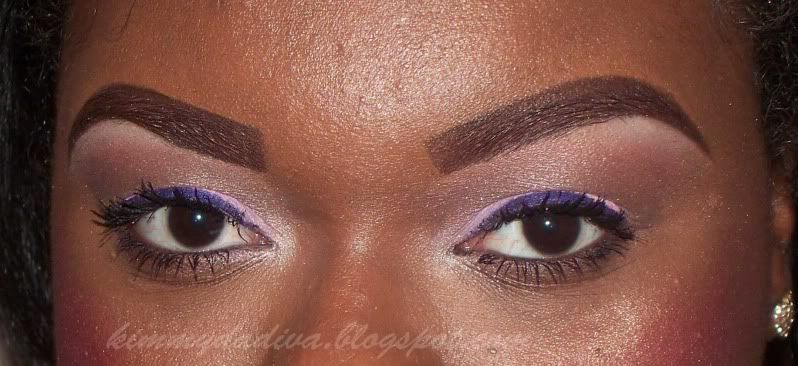 I started from the brow working my way to the lid for this look.
Products Used
FACE
Smashbox primer
Ebay 20 concealer palette (
under eye concealing
)
Black Radiance perfect blend concealer: Caffe Latte (
blemish concealing
)
Maybelline Superstay f/d: Cocoa
Covergirl bronzer: Ebony Bronze
N.Y.C. Sun 2 Sun bronzing powder: Terracotta Tan; dark side (
contour
)
Sally's Girl shimmer stripes: 388156 (
highlight
)
MAC mineralized blush: Band of Roses
EYES
UDPP
MAC p/p: Painterly
NYX Jumbo pencil: Strawberry Milk (
lid
) & Dark Brown (
bottom lashline
)
Sally's Girl e/s: Biege (
highlight
)
26 e/s & blush palette:
colors 1 (
browbone
)
color 2 (
browbone
;
between the highlight & browbone color
)
color 3 (
outer crease
)
color 4 (
lid
)
color 5 (
bottom lashline
)
Physicians Formula eyeliner; for green eyes; purple color (lid liner)
Wet n Wild chrome eyeliner: Antique Amethyst
Maybelline mascaras: Falsies & One by One
LIP
Kleancolor l/l: Millenium
Nicka K l/s:Wild Violet
Milani l/g: Fashion Diva
Brows:
Ruby Kisses eyeliner: Black brown
L'Oreal HIP cream liner: Brown
Maybelline clear mascara
20 concealer palette
Black radiance concealer
Stay tuned for my next look using the 26 eyeshadow & blush palette.
Be Fabulous & be smart!