Hello lovelies,
I hope everyone is doing well. My FOTD came about early as I was planning to do this look this weekend for my movie night to go see Transformers. Somehow I was feeling moody because of my insurance company taking a twist in my day. So what do I do to take away from all the rage I was feeling; I do my makeup. I swear when I want to release tension I play in my makeup and I feel a whole lot different. Let me not sidetrack and babble about my ways of therapy to you all. LOL!!
I receive a sample of a pigment as a gift from a Youtuber a long time ago and decided to incorporate it into this look.
Here are some pictures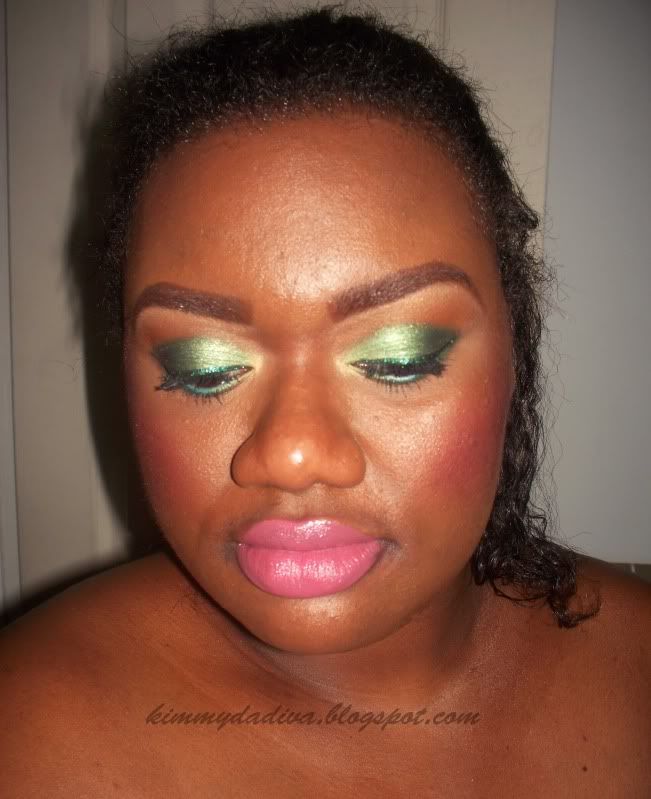 Excuse my messy hair, I just washed it and left to air dry
After uploading these pictures I realized I needed a whole lot of blotting powder
Products used:
FACE
L'Oreal Perfecting primer
New 20 concealer palette (under eye circles)
Everyday minerals f/d: Tan (set under eye circles concealing)
Black Opal f/d stick: Beautiful Bronze
Maybelline superstay f/d: Cocoa
26 e/s & blush palette: matte brown color e/s (contour)
Milani Glimmer stripes: Honey Glimmer (highlight)
La Femme blush: Indian Rose
EYES
UDPP
Wet n Wild shadow stick: Envy
Random pigment: China Jade (inner ½ of lid & bottom lashline)
Inglot e/s: AMC Pearl #418 (outer ½ of lid & middle of bottom lashline)
Sally's Girl e/s: Chocolate (browbone)
MAC e/s: Rule (2nd browbone color)
Wet n Wild coloricon palette: Snow Spirit; 3rd left color; forest shimmer green (outer crease)
Wet n Wild bronzer: Tahitian Tan (highlight)
Milani Earthly Delights e/s quad; 1st left color; golden with green undertone (2nd highlight & tearduct)
Wet n Wild cream eyeliner: black (lid liner)
L. A. Colors eyeliner: Turquoise (waterline)
Wet n Wild Fantasy Makers glitter eyeliner: Secrecy (2nd lid liner)
Covergirl Lashblast mascara
LIPS:
Wet n Wild l/s: 904B Rose Bud
****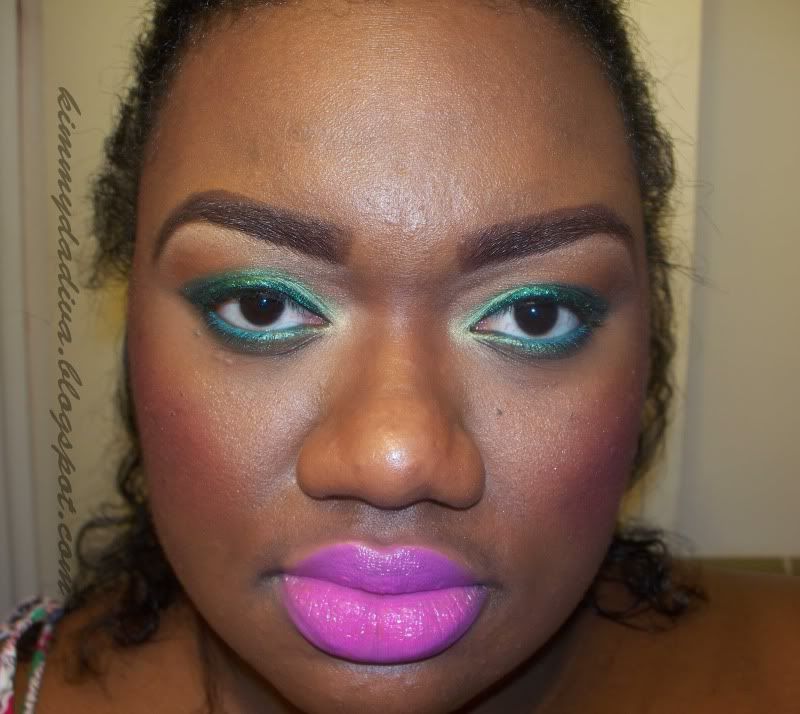 LIPS:
Nicka K l/s: Pink Tint
I hope you all have a safe and bless weekend and a wonderful
4th of July
. I will post my movie night look hopefully after 4th of July. Can yall believe we in the month of July already! What!!!
Be Fabulous & be smart!!