Hello lovelies,
Do you love glitters? Do you use glitters eyeliners in your makeup looks?
Well these items are becoming a favorite of mines when I do FOTD. I wasn't a fan of of glitters before but lately it has been growing on me since I did my glitter eye birthday look which everyone liked. From then on I pulled out my glitter items and decided I wanted to give them a go again. Some being glitter eyeliners from Wet n Wild Fantasy Makers Collection which usually are being showcased near Halloween time.
Here are a few glitter eyeliners I own and love and believe me you don't have to break wallet in purchasing these.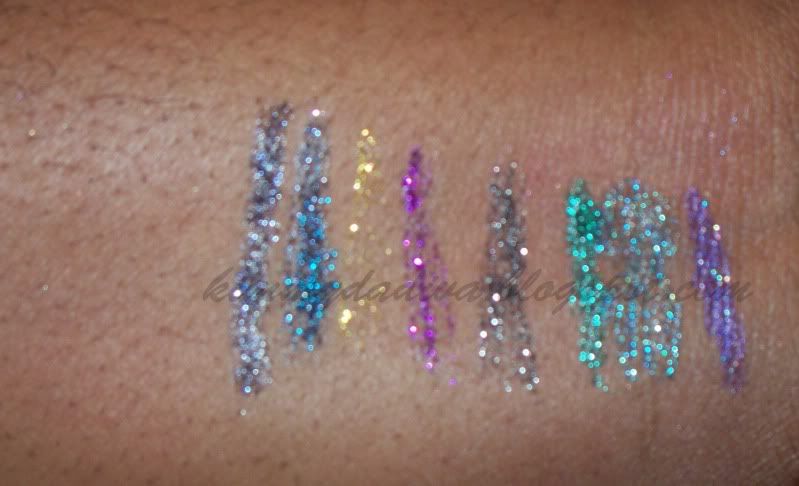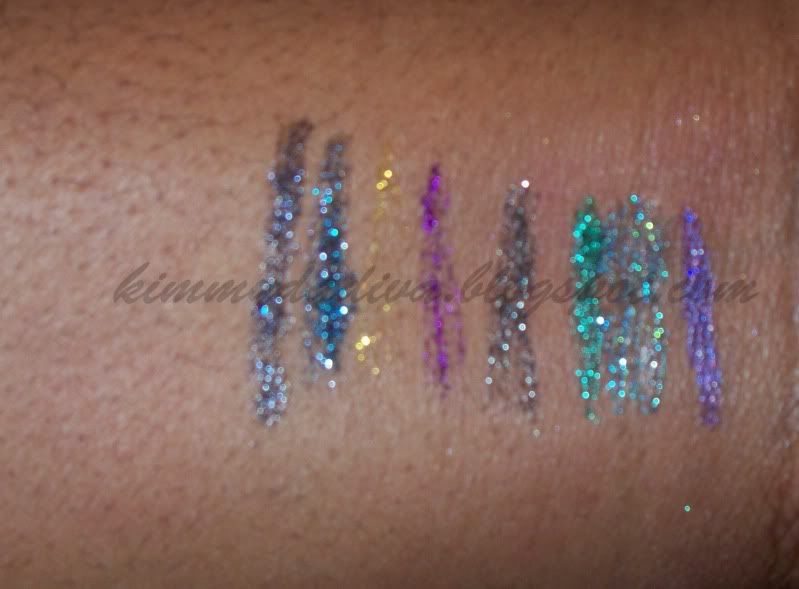 All three pictures are swatches in the same order:
L-R: Kleancolor glitter liners: Black, Midnight Blue, Gold, Lilac --- Ruby Kisses iBling-Glitz n Black --- Wet n Wild Fantasy Makers glitter eyeliners: Secrecy, Magical, Mystical
If you don't own any glitter eyeliners you can make your own by using cosmetics glitter and some glitter glue using a stiff flat eyeliner brush to apply as an eyeliner glitter paste to the eyelids.
To purchase the Kleancolor and Ruby Kisses glitter eyeliner check you local beauty supplies. Price: $1.00 - $2.99
As for the Wet n Wild Fantasy Makers glitter eyeliners they are being sold around the Halloween time period and found wherever Wet n Wild products are being sold. Price: $1.99
Disclaimer: All products were purchased with my own money. I am not being sponsored by any of the companies mention nor I am affiliated in any manner.
Be Fabulous & be smart!!