Hey everyone
I know your wondering what the title is about, some of you may know because you've taken advantage of it but some of you maybe like "drop the news girl"!!!
Well CVS drugstore is having 75% off on some makeup products, it varies in every city/ state but a few items that I've seen are Milani, L'Oreal & L'Oreal HIP, Rimmel, Revlon etc etc
Let me break it down what I saw specifically at my local drugstore:
L'oreal lipstick...
Revlon Matte Lipsticks & some Super Lustrous ones too, mascara, blush and eyeshadows...
Rimmel cream shadows, lipgloss, powder foundation and lipsticks
...
L'Oreal HIP eyeshadow duos, paints, crayon
....
Milani blush duo, eyeshadow quad, lipsticks, glimmer stripes
There were also 50% sticker (red colors sticker) but not much of any products were 50% off, I think they just have not gotten around to labelling stickers on all the products.
Tips:
- Make sure to have a CVS Extra care card, it has saved me so many times. With this card you get all the deals mentioned in the weekly ad which may be
Buy One Get One Free
Buy one get one 50% off

50% off, 75% off

Extra Bucks savings
Sale price and also

free sample goodies sent to your home along with coupon savings on your next purchase
Lastly $3-$4 off purchases 0f $20 or more, (

it may vary

)!!
Note: ALWAYS
USE YOUR CARD WITH ANY PURCHASE DOESN'T HAVE TO BE MAKEUP/BEAUTY PRODUCTS.
Treat it like a a Sephora Beauty Insider Card :)
Also if you run to your CVS store to get in on these deals before you do, here are some other savings tips:
Check if you have newspaper clippings coupons for any of these brands listed above, well any makeup brand because as I said it varies in states.
If you have CVS card already check if you have any old receipt with the savings at the end, like $3 off any $20 purchase or Extra bucks savings, if they haven't expired: USE THEM :)
Check out CVS.com for a printable coupon on L'Oreal products..... yes... PRINT IT, cause you just might end up scoring a item for free after that 75% sticker off on the product.....yay!!!!
Check out
Recessionista from Nouveau Cheap
blog for more details and info. Love her blog for providing terrific info on deals in beauty world.
Have Fun Shopping and let me know what you all got.
*********

Pictures of what I got: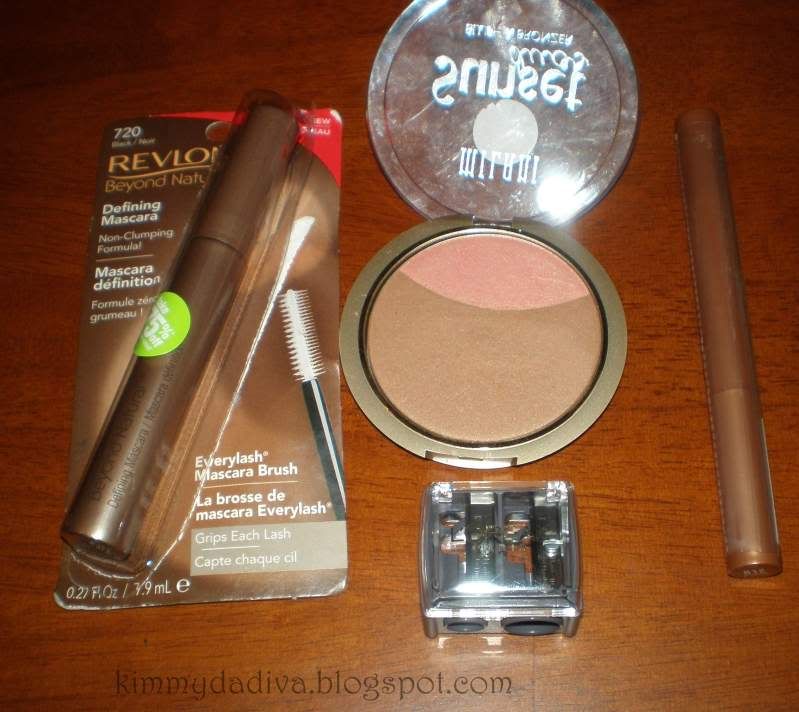 L-R: Revlon Beyond Naturals mascara: black, Milani Sunset duo: Sunset City, HIP Crayon: Attentive & Revlon dual sharpener
Saved a total of

$36.00
Do you all see how much I saved in total of my 2 trips to find great deals: TOTAL=$80.96
and I got 13 items.
***FTC you see my evidence [
stick tongue out
]
Be fabulous!!