Hi lovelies,
I pulled out my pigments and did a glitzy and glam look but my camera sucks and of course after taking pictures I realize that the glitz and glam don't show up on camera. [
Note to self: need new camera asap, definitely saving towards it starting NOW!!
]
I am contemplating on a Nikon D3000, I love how the pictures looked after viewing
Katrina is A Princess
website playing with her new Nikon. It's a if-eh between it and a Kodak Easy Share IS
(14
megapixel)
one.
Ok back on track....EOTN....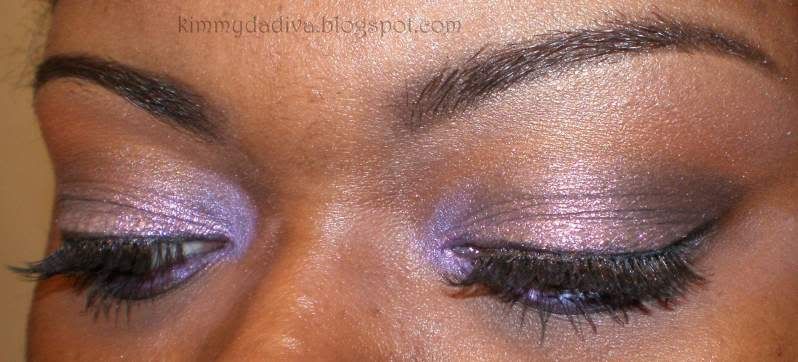 Products used :
Eyes
L'Oreal HIP paint:Steely ~
used as a primer
L'Oreal HIP cream liner: Black ~
second base
*MAC Helium pigment sample ~
lid
*MAC Off Radar pigment sample ~
crease to brow bone
**Aromaleigh Cascade pigment ~
crease
NYX Black e/s ~
crease
*MAC Circa Plum pigment sample ~
bottom outer lash line
NYX Purple e/s ~
tearduct & inner bottom lashline
NYX Luxor e/s ~
tearduct & inner bottom lashline

L'Oreal HIP Adventurous duo (light color)
~ highlight

liquid liner
mascara
ELF dramatic lashes (

I think

)




* Goodies I received from the lovely Vixxan of The Glam Shack

**
Prizes from a mini contest courtesy of Aromaleigh Cosmetics


I'm officially in love with MAC Helium pigments using it over a black base gave a shimmer duo chrome effect as if I had put some glitter on my lids. I didn't know this color was that beautiful and Off The Radar is such a beautiful color, reminds me of Rule with shimmer. Love them all!!
Be fabulous !