Hello Beauties,
I had promised that I would do a prom series and I am keeping my word. This series would be called Prom Glam.... here is my first look for this series. In this series I will give a step by step (in words) as to how I achieve the look. Nevertheless, today's Prom Glam look features affordable makeup products that can be purchased from your local beauty supply stores and drugstores that offer affordable brands such a Ruby Kisses, ELF and N.Y.C.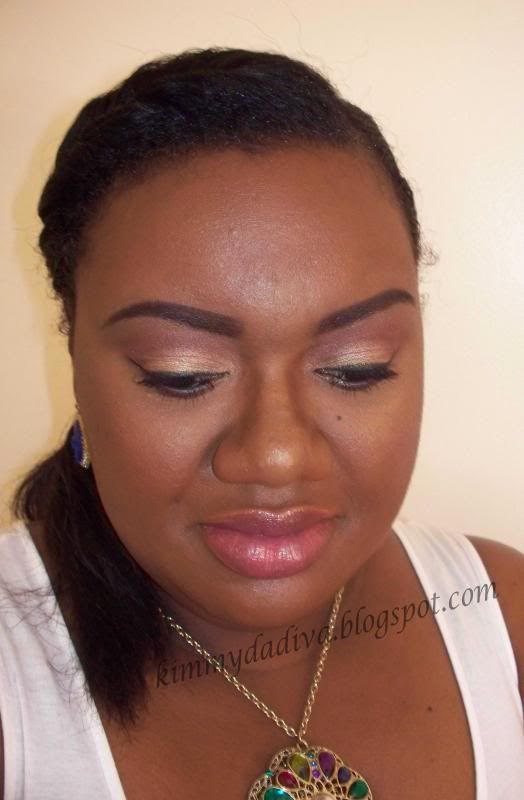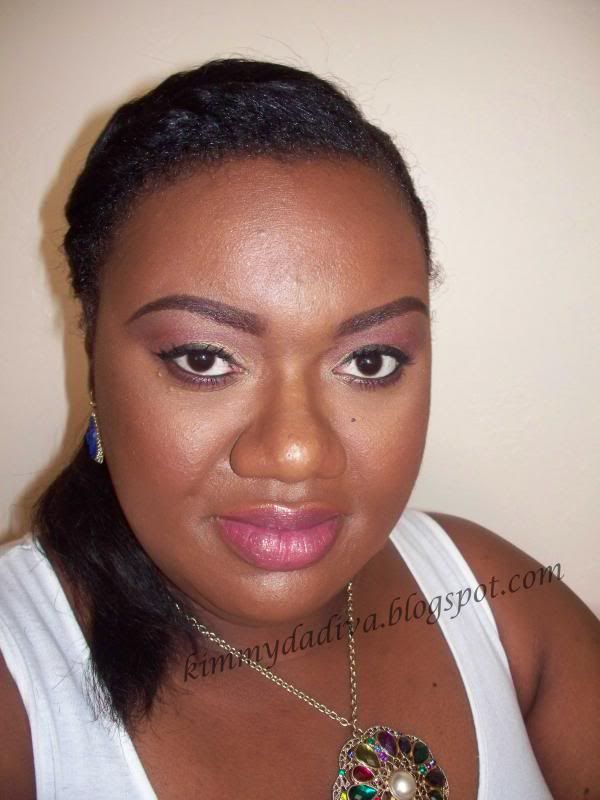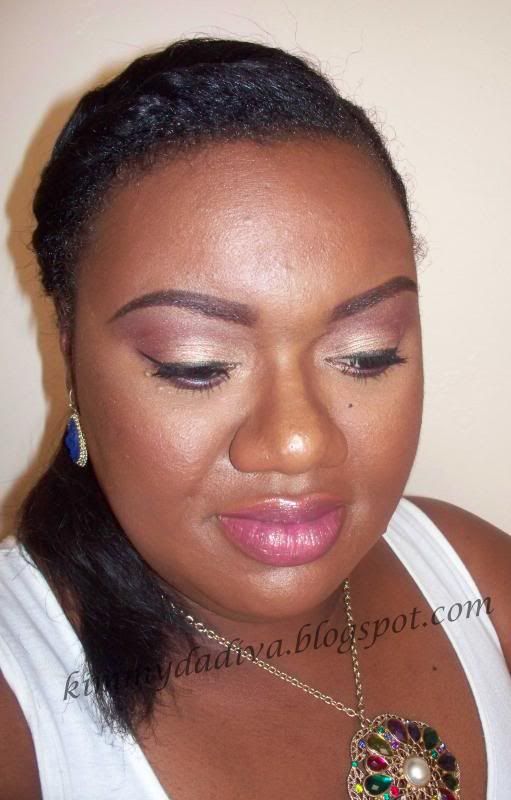 Products Used
FACE
Ruby Kisses No More Blemish f/d: Cognac
Ruby Kisses mineral powder: Cognac
Ruby Kisses 3D Face creator: Level 12 ; light color (
under eye concealer
)
N.Y.C. Translucent powder (
set under eye concealer
)
Ruby Kisses mineral powder: Ebony (
contour
)
ELF blush: Mellow Mauve (
blush
) & Gilded Gold (
highlight
)
EYES
Wet n Wild eye primer
Maybelline 24hr Color Tattoo: Gold Shimmer (
lid base
)
Ruby Kisses eyeliner: Brown (
bottom lashline base
)
ELF e/s: Wheat (lid), Mocha (
outer lid & crease
), Aubergine (
outer lid, crease & bottom lashline
), Moon Dust (
highlight
), Pink Ice (
tearduct
)
Physician Formula Shimmer Stripes for Green Eyes: black color (
lid liner & waterline
)
Maybelline Falsies Flared mascara
LIPS
N.Y.C. liquid shine: 555B Iced Orchid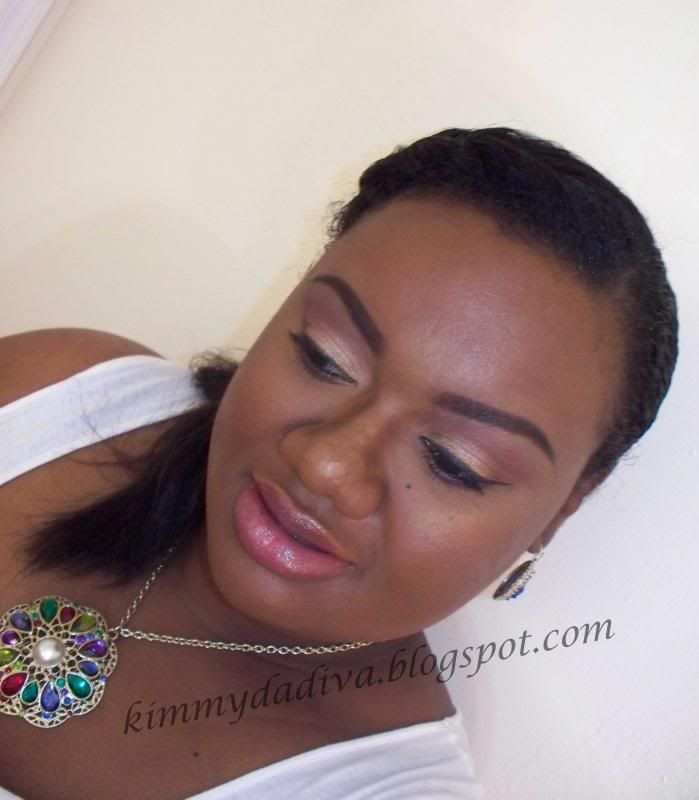 The Process
Primer lid and bottom lashline with Wet n Wild eye primer or ELF eye primer
Apply a base so as to intensify the eyeshadow color, I used Maybelline 24 hr Tattoo in Gold Shimmer and applied it to the lid, leaving the outer corner bare.
Using ELF eyeshadow in Wheat apply it unto the lid over the base we applied previously. Then using a crease brush I applied Mocha on the outer lid and blended into the crease area for more depth.
ELF Aubergine eyeshadow was then taken as done in the same process as we did with Mocha for more depth in our look.
With ELF Moon Dust I applied it lightly as a highlight under the arch of my brow.
Taking Ruby Kisses brown eyeliner and applied it to my bottom lashline and smudge Aubergine eyeshadow over it.
To line my eyelid and waterline I opted for my Physician Formula cream eyeliner in black with a simple wing detail.
Applied my favorite mascara and then applied ELF Pink Ice eyeshadow lightly in the tearduct.
And there you have your eye look is complete, adding lashes is optional but would be very glam for the look.
Apply your foundation of choice if you have oily skin be sure to apply a primer and my favorite: MOM (Milk of Magnesia) which keeps the oils abay. For dry skin, be sure to moisturize the skin before applying your foundation.
After you have completed your face foundation routine, spray some makeup mist/fix +/ setting spray to keep your makeup looking fresh and glam during your night of enjoyment. An affordable setting spray would be ELF spray mist that contains Aloe which calms the face and leaves it looking fresh.
Apply your lip balm and then your lip shine of choice. I used the subtly color from N.Y.C. in Ice Orchid. If need be to line your lips, apply a Rose pink color or Cocoa depending on your skin tone. Do not apply a black color to your lips.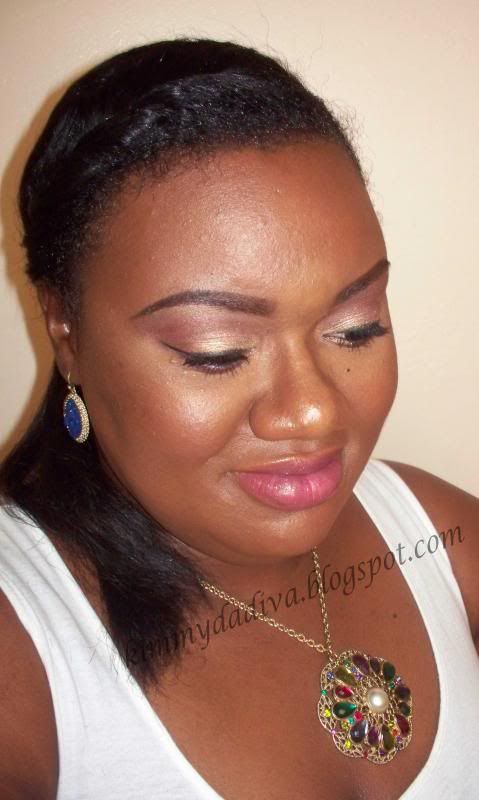 If you have any questions regarding the makeup look and the process in completing this look, please forward them to my email:
DaDivabeauty@gmail.com
Be Fabulous & spread love!!!