Hell Beauties,
Today's look is simple but yet fierce. I wanted a way to use my Inglot eyeliner that has dried out on me, but if you use their Duraline you'll definitely get use of it when dried. However, Ruby Kisses has single eyeshadows available now and I found them at my local BSS for a buck so I wanted to try them out and yes they are super intense for the price especially the matte colors. These eyeshadows do have fallout as with any eyeshadows and their are a variety of colors available. If you see them in your local BSS definitely add some to your collection. I will definitely do swatches of them as soon as I add more to the few I purchased.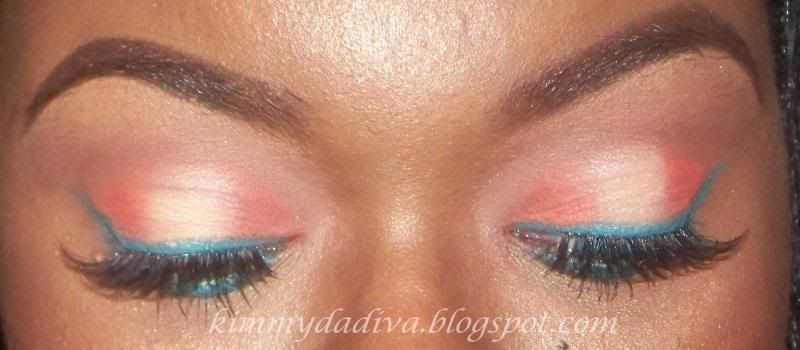 Products Used
FACE
Revlon Colorstay f/d: Mahogany
Revlon PhotoReady concealer: Deep (
under eye concealer
)
NYC Translucent powder (
set under eye concealer
)
Black Opal Finishing powder: Dark
Ruby Kisses All Over Glow: Bronze Glow (
highlight
)
KleanColor SugarPaint (
contour
)
Maybelline blush: Coral Burst
EYES
20 concealer palette
Sally Girl e/s: Chocolate
MAC e/s: Samoa Silk (
middle lid
) & One To Watch (
highlight
)
Ruby Kisses Luxe e/s: Tropicana (
inner & outer lid
), Center of Attention (
outer lid
)
Inglot cream eyeliner AMC #87 (
lid liner & bottom lashline
)
Rimmel eyeliner: Funky Chick;
teal color
(
waterline
)
La Charme lashes: DW
Rimmel Lash Accelerator mascara
LIPS
Maybelline Vivid l/s: Vibrant Mandarin
LIPS II
Milan Rowe l/s: Alter Ego
Be Fabulous & spread Love!!!