Hello lovelies,
I hope you enjoy this FOTD, it's pretty much not your everyday look but great for a night out or dinner night, I wore on the job and everyone loved it, I love stepping out of my usually Neo-soul look so this was what came to mind. I took out my Wet N Wild new ColorIcon Holiday palette in Night Elf. I pretty much got all the Wet N Wild (WnW) Holiday palettes now and was super excited about this one because of the red color. If you haven't gotten your hands on these yet, get them now as they are limited edition and it has been the beauty rave on Twitter as everyone is loving the colors and pigmentation which is surprisingly similar and even better than MAC for a lot less in price.
Here are pictures of my look: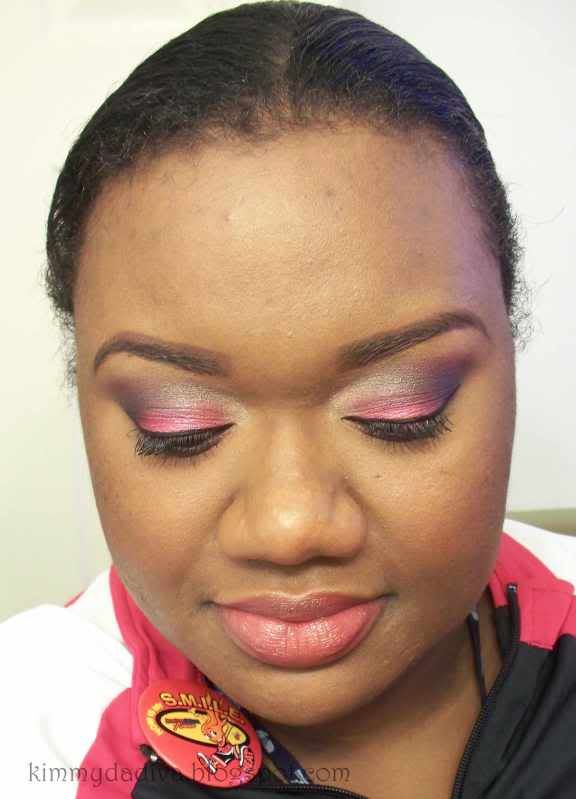 Products used:
FACE
L'Oreal Perfecting Base
Smashbox Tinted Moisturizer: Dark
MAC Studio Finish Concealer: NW45
MAC Blotting powder: Deep Dark
Black Opal Deluxe Finishing powder: Dark
Rimmel blush: Berry
Milani blush: Sunset Beach
WnW bronzer illuminator: Starlight
EYES
UDPP
MAC p/p: Painterly
40 Miss Rose/Quiyan WET e/s palette: Red pink color (
lid
)
WnW Night Elf e/s palette: shimmer black (
3rd Right ; crease
)
WnW Night Elf e/s palette: green brown (
3rd Left ; crease & browbone
)
WnW Night Elf e/s palette: green tan (
2nd Left ; tearduct
)
WnW Vanity e/s palette: matte creme (
1st Left ; highlight
)
WnW Night Elf e/s palette: Red color (
2nd Left ; browbone & bottom lashline
)
WnW Tahitian Tan bronzer (
highlight
)
WnW H2O Proof liquid eyeliner: Black
UD eyeliner: Zero (
waterline
)
Maybelline Falsies mascara
Covergirl LashBlast
LIPS
Revlon l/s: In the Red
Covergirl Wetslicks Amazemint l/g: Plum Craze
Rimmel Kiss Off l/g: Talk To Me
Check your local Walgreens for the limited edition Wet & Wild ColorIcon Holiday palettes
Be Fabulous!!