Hey beauties,
Wet n Wild
has introduced some new Coloricon single eyeshadows and guess you found them in her local Walgreens? Me!!! I actually love the new colors and from my previous Mini Haul post about the other new Wet n Wild cosmetics being introduced this month, you all can tell that I am a big fan of this drugstore brand.
Wet n Wild
is a fantastic drugstore brand, I have many FOTD's and EOTD featuring the use of their cosmetics line. Their product in my opinion are comparative to some mid end brands and some higher end too. Let's view these new eyeshadows and see swatches.

L-R
:
Stagedive
, Panther, Trashed,
Platinum
&
SellOut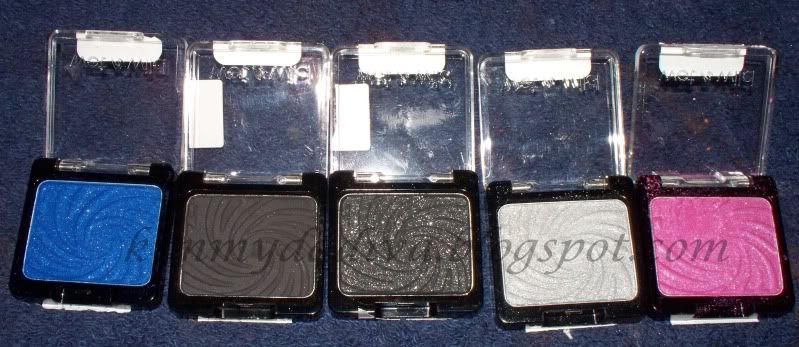 L-R
:
Stagedive
, Panther, Trashed,
Platinum
&
SellOut
Stagedive
: is a blue color with silver specks of glitter. This color is very soft and as with most Wet n Wild eyeshadows; very blend able. The color has great pigmentation. You are bound to get glitter fall out from this eyeshadow color.
Panther:
is a black with some grey undertones to it. Very nice color for the smokey eyes or to deepen lighter colors. It's a pigmented black eyeshadow and one to purchase if you are on a budget and need a matte black color.
Trashed
: is a combination of grey and black with lots of silver glitter. Beautiful pigmentation and lovely eye lid color for the night on the town when we need that glitter look on the eyes. To reduced the glitter fallout from this shadow; tap off excess on the brush before applying.
Platinum
: is just as how the name says it, it's platinum color and would be a great two pair with the previous colors for an awesome smokey eye look. This shadow is super creamy.
Sellout
: is a nice deep lavender color and it has some specks of glitter in it. This color is a very beautiful color for the lid and with an intense base color can give a nice bright eye look. A nice use would be a tear duct color to brighten any purple eye makeup look.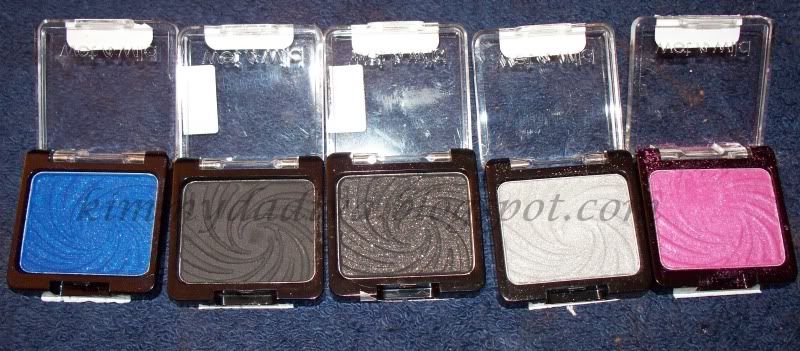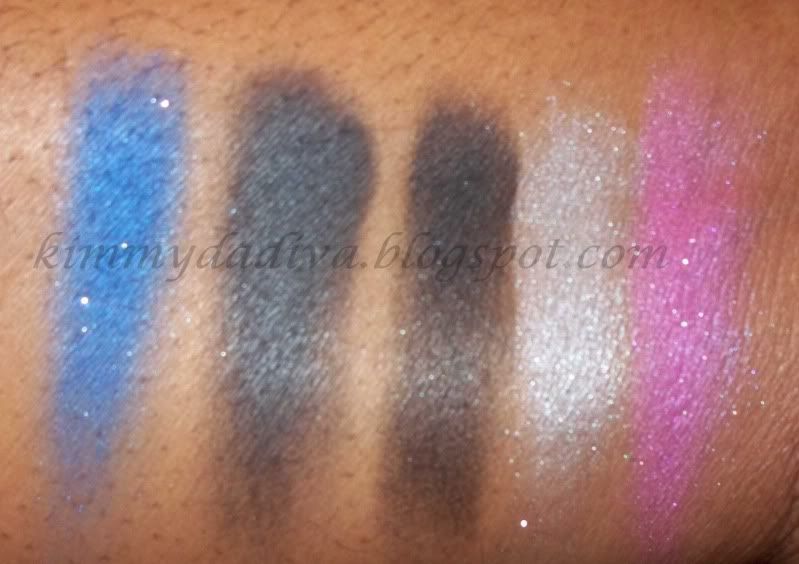 L-R
:
Stagedive
, Panther, Trashed,
Platinum
&
SellOut
Where to purchase: Walgreens
Price: $1.99
Be sure to subscribe to WetnWildcosmetics.com for a $1 off manufacturer's coupon towards any Wet n Wild product purchase.
**All products in this post where purchased by me with my own $$$ and I am in no way being compensated by the companies mentioned in this post.