Hello lovelies,
I'm back. After all that planning, everything turn out wonderful, so I'm back to Blogger, to do what I like. Of course I couldn't turn down some bargains so I have been hauling since December 2009 - January 2010. With the CVS 75% off sale I still was getting goodies from there, I went to a different CVS and found stuff that my regular CVS didn't have in stock. Also I had purchase from Nov. 09, some single shadows and a empty palette from BF-Beauty.com which I am now receiving. So you'll get swatches of that and also Wet N Wild release of some new and improved oldies stuff that I had to try, because I love Wet N Wild cosmetics.
Here we go:
Wet N Wild has improved some of their old items and also their website. Now with the new items in better packaging and with better quality. They have release some eyeshadows quads and with discounted drugstore sales, I had to try them..... OMG.... awesome!!
Eyeshadows= awesome quality and pigmentation, super silky and very sleek new packaging.
Lipstick = no no no, I hate this type; now I know why I didn't purchase any of these mattene types. These mattene are too thick and heavy and they make my lips feel extra dry.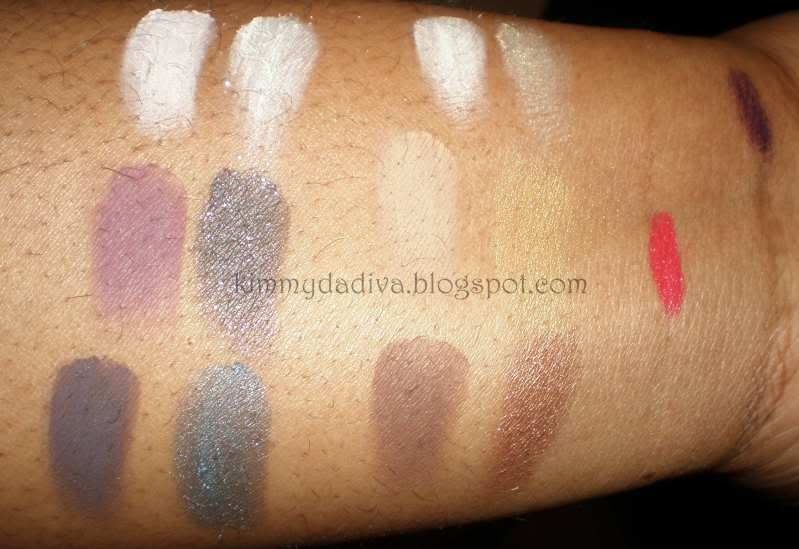 Swatches of quads and lipsticks above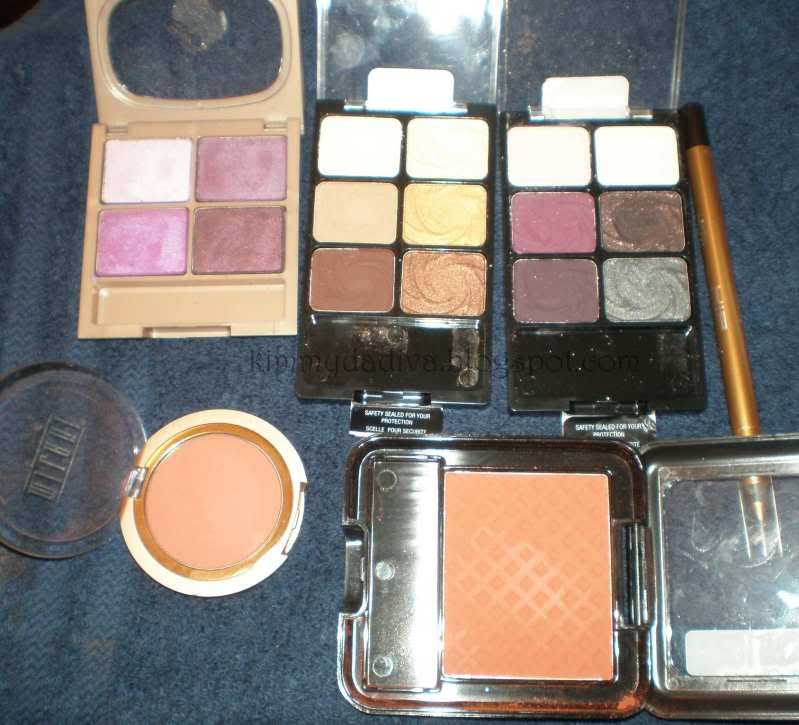 Milani quad: Wild Violet, WetnWild quads,

Milani blush: Sunset Beach
♥
,

Black Radiance blush: Soft Honey
♥
(

Faves of the Month

)

, L'oreal HIP chrome eyeliner: gold color
,
HIP duo: Spirited (not pictured)
Swatches: HIP duo: Spirited & Milani quad: Wild Violets
Wet N Wild Silky Finish lipsticks (love them!) & Rimmel Lipsticks
***
There will be lip swatches of my collection of Wet N Wild lipsticks coming soon.
I didn't purchase these all at once, they were purchased over time from Dec- Jan, and Wet N Wild lipsticks are $0.94-$0.99 a piece. Rimmel was purchased on the CVS 75% off sale.
Now the long awaited BF-Beauty.com haul, that I had to wait almost over 2 mths for. Here are pictures and also swatches.